Top Rated Online Couples Therapy & Marriage Counseling
Helping You Increase Trust, Intimacy, and Connection in Your Relationship
Feeling distant from your partner? Want a fun and easy way to reconnect?
These 82 questions will help you reconnect and get to know each other all over again.
Online Couples Therapy
Are you feeling unfulfilled in your relationship?
Do you keep having the same fights over and over again with no resolution? Do your fights get out of control and unnecessarily nasty?
Is sex getting boring and routine…or non-existent?
Do you feel more like roommates than lovers?
Does it feel like you always come last on your partner's list of priorities?
If any of the above sounds like you, you're in the right place. Your relationship is not broken but it IS in need of a breakthrough.
There is so much that can be done to help a hurting relationship! Our therapists personalize your treatment and give you tangible tools to help you feel truly happy together again.
Online Individual Therapy
Do you keep attracting the wrong kind of relationships or partners? 
Are you unhappy in your relationship and wondering if you should stay or leave? Do you want to go to therapy but know your partner won't?
Maybe you feel like there must be more to life and love than this but you can't figure out what you need to be truly happy.
You do not have to do this alone.
We can help you get to the source so you can stop repeating the same unhealthy patterns and unwanted results in your life and relationships.
You can create shifts in your relationship even if you are the only one who wants to work on it.
 Become more confident. Feel truly happy. Heal your soul.
Online Premarital Counseling
Premarital counseling is focused on prevention and enhancing the positive qualities of the relationship.
It's important to set the groundwork of effective communication from the beginning. 
Too many couples jump into marriage thinking they can just figure it out on their own and are shocked at how hard things feel after the honeymoon is over.
Many couples develop toxic communication patterns or stop communicating at all and slowly slip further and further away from the loving, compassionate, relationship they used to have.
Much of this is preventable by learning some basic strategies and tools for making a marriage work from the beginning.
Premarital counseling with Couples Learn involves assessment, education and guidance to prepare you for a long lasting and happy marriage.
Meet Dr. Sarah Schewitz
Licensed Clinical Psychologist & Couples Learn Founder 
Dr. Schewitz is a Licensed Clinical Psychologist—this means she has completed over 3,500 hours of supervised work with clients, along with passing state and federal exams.
She also has a Doctorate in Psychology (Psy.D.) from Florida Institute of Technology and close to a decade of experience working hands-on with couples just like you.
Advanced Training
Level 1 Gottman Method Couples Therapy
Level 3 Imago Relationship Therapy
Emotion Focused Therapy With Couples
The New Rules of Love: How Couples Are Reinventing Marriage
What Makes Love Last? How to Build Trust and Avoid Betrayal
Research-based online couples therapy that gets you results.
There's a lot of great research available on the topic of relationships so we know exactly what makes them work and what behaviors lead to divorce or breakup. We have relationships down to a science. We can teach you everything you need to know so you can be sustain your love for the long haul.
Why Is It Important To Get Expert Advice?
When your car is broken do you try to fix it yourself? No, because you don't have the proper training! You bring it to people who have been trained to diagnose and fix the specific issue your car is having. Just because you have been driving a car for years doesn't mean you know how to fix it. Well, just because you've been in relationships for years doesn't mean you have the training and knowledge needed to diagnose and treat the issues you are having. Sometimes it's hard to see the solution when you are emotionally invested in the outcome. We can help get you back on track.
The Impact of Couples  Counseling
Having issues doesn't mean your relationship is broken beyond repair. When you leave one relationship for another, you are often just trading one set of incompatibilities for another. Most of us are operating from unconscious beliefs about love & relationships that we developed in childhood. We tend to pick partners who can trigger us in the same way that our caretakers disappointed us as children. So even if you leave your current relationship, you may find yourself repeating the same dynamic with different partners if you don't heal the core issues. Therapy can help shift these patterns once and for all.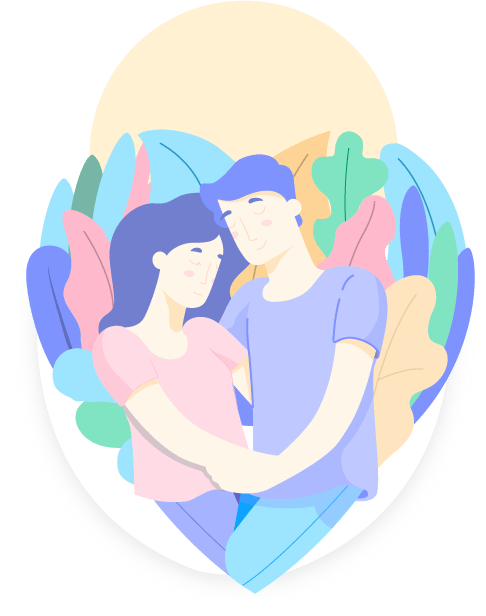 Schedule free 30-minute chat
We make it easy to know if it's the right fit.
Get expert advice
Begin receiving expert advice from a licensed professional.
Get ongoing support
Get weekly, bi-weekly or monthly ongoing support with us.
Initially I was very hesitant about asking my significant other to do couples therapy because it wasn't something we would normally do. We had hit a speed bump in our relationship and I didn't know what to do and felt lost. I couldn't ask my friends since they tend to be biased. That's when I found Sarah's page randomly looking through Google. Finding this page and meeting Sarah is one of the best things that has helped our relationship! Sarah showed both of us things we didn't know about ourselves and ways to work on ourselves as well as our relationship. Now we've both learned how to take consideration in each other and have never been better! Thanks Sarah! If you are hesitant, don't be! I'm glad we took the leap!
Dr. Schewitz was my therapist for almost a year and I am so grateful to have found her! I was drawn to Dr. Schewitz due to her focus on relationships. I knew part of the depression I'd been dealing with related to relationships and she has definitely helped me here.
Dr. Schewitz listens but doesn't just sit there passively. She was great about guiding me to my own conclusions and dismantling counterproductive behaviors in a way that isn't dominating. She shares outside resources for me to take my growth and development as far as I want and in the directions that appeal to me.
I've had good and bad therapists in the past and so I do appreciate the quality of care as described above. I think I felt like I had found the right therapist for me when I realized how flexible she is in offering support to her patients. It's not a "one size fits all" approach to therapy and so I really trust her perspective. I would recommend Dr. Schewitz because I know no matter where I'm at in life (and what I'm dealing with), she can be a great resource.
My fiance and I had such a great experience working with Sarah for our premarital counseling. Getting premarital counseling is a requirement for couples getting married through our church, so we went into it not really knowing what to expect and not sure what we would get out of it. But I'm so glad we found Sarah, because we ended up coming away with really great tools for communication, thought-provoking conversations, and feeling more excited to get married than ever. Plus, we now have our go-to counselor if we ever encounter any issues in our marriage and need a tune up. I would recommend Sarah to anyone.
Frequently Asked Questions
Do you take insurance?
In short, no but it's also more complicated than that. We do accept PPO insurance as an out of network provider. What that means is you pay your therapist directly after each session and then we submit a receipt for services (called a superbill) to your insurance for you at the end of every month. Once the claim is accepted, your insurance will mail you a check for the amount they agree to reimburse for out of network providers. To learn more about your specific plan, call your insurance company to inquire about your out of network benefits. Want to learn more about why most therapists don't take insurance? Read more
What services do you provide?
We provide individual therapy, couples therapy, premarital counseling and coaching via an online service called Zoom. Sessions are typically once per week or every other week. We offer 50 minute sessions for individuals and the option of either 50 or 80min sessions for couples therapy.
Can me and my partner connect from different places?
Yep! That is one of the many benefits of online therapy. When you book an appointment, you will receive a confirmation email with a link. Just send the link to your partner and he or she can connect by clicking the same link. All 3 of us will be in a video chat together and we all can see each other at the same time.
What is the cost of working with Couples Learn?
Our session rates are comparable with other masters and doctoral level specialists in Los Angeles. The cost of your treatment truly depends on your unique needs but services typically range from $175-$375 depending on which of our therapists you work with and the length of the session. Please setup a free 30 minute consultation to learn more about the rates for the specific services you are seeking.
Do you have evening appointments?
Yes! Dr. Sarah's last session is at 6pm but our other therapists have later availability as well as weekend appointments. Most people find they can fit the free 30 min consult during work hours. Then, if you become a client, you can schedule an evening appointment. If you are doing a consult for couples therapy, it is fine if you and your partner are in separate locations for the consult. You can both just click the link and will be in the same video chat.
Are online couples therapy and individual therapy sessions as good as in-person?
Yes! Online therapy is just as effective as meeting in person. All the nuances of facial expressions and nonverbal communication can be seen through video just as they can in person. Our clients love that they do not have to allocate time to travel to and from an office, and deal with traffic or parking. Our clients also say having sessions from home makes it more comfortable for them to open up and be vulnerable.
Does what we talk about in session remain confidential?
Absolutely. Confidentiality is one of the most important components between a client and therapist. If you choose to become our clients, no one knows you are our clients and no one knows anything you talk about except you and your therapist. 
Is your practice inclusive of all types of clients?
Absolutely! Same sex couples, LGBTQ individuals, non-binary individuals and couples living alternative lifestyles (i.e. polyamorous, kink, BDSM, etc.) are all are welcome.
How do we know if we need couples therapy?
Odds are, if you're considering it, you probably needed it a long time ago. Most couples wait way too long to seek help. Unfortunately, the longer you have been fighting in unproductive ways and building up resentment, the harder it is to turn things around. That doesn't mean it's impossible by any means but, the sooner you get help, the better chance you have of saving your relationship.
Many young couples think that if they need couples therapy before they are married, there is something seriously wrong and they should just break up. This is not true! Having relationship challenges does not mean it isn't meant to be. It just means you need to build some skills in the communication and relationship department. That is what much of couples therapy is about; teaching you stuff that will benefit you for the rest of your life – whether you end up staying together or not.
For more tips on whether you should seek help, check out our blog post on 7 signs your partner needs couples therapy
Learn More About Dr. Sarah Schewitz & Couples Learn
Dr. Sarah is based out of Los Angeles, CA and has been working with couples and individuals since 2008. She is passionate about inspiring people to dream big and achieve their "impossible" through improving their life and relationships.
4 Toxic Behaviors That Are Ruining Your Relationship
Marriage researchers have found 4 characteristics that almost guarantee divorce (or a very unhappy marriage) when present in your relationship. Called the 4 Horsemen of the Apocalypse, these 4 characteristics are toxic and must be changed if you are to have a positive, loving, and lasting relationship. 
Dr. Sarah On Making Love Last – What To Do & What To Avoid
In this video you will discover:

More about Dr. Schewitz

The 4 toxic behaviors that are ruining your relationship

How to improve your relationship

My favorite books for couples

What to do when your partner doesn't want to come to couples therapy

The daily practice you can implement to bring more joy to your relationship
8391 Beverly Blvd, #103 Los Angeles, CA, 90048